About Us
— Southwest Transport —
At Four Peaks Transport, my company specializes in moving all types of recreational vehicles for those individuals who want a professional to help move them out of the summer heat and into a cooler climate for the summer. If you are looking to vacation in the mountains, near a lake, or to a less harsh climate, call Four Peaks Transport and have it done safely and professionally.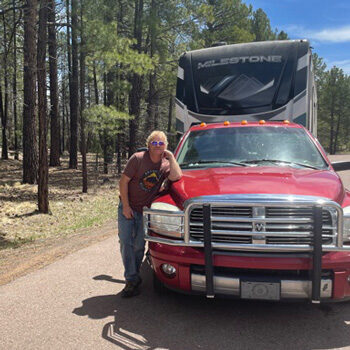 Jeff Miller
Owner Operator
As the owner and operator of Four Peaks Transport, I have many years of experience providing quality, professional service. As a business, I value honesty and integrity and am committed to providing my clients with only the best value in transportation.

Four Peaks Transport now offers transportation of RVs, camper trailers, motor homes, and 5th wheels. Since I began offering this service, I have been used by several of the top recreational Vehicle Dealers, Auctions, and many independent RV owners.

As an upstanding and reliable local business, I am fully insured and licensed with over 20 years of experience in the transport industry. I have outstanding references available upon request.